Avoid These Kitchen Renovation Mistakes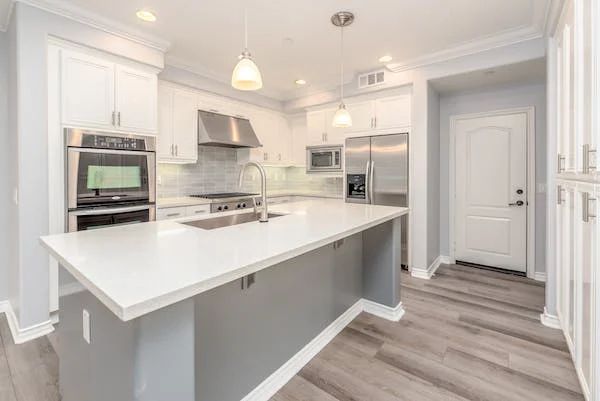 It's a universal truth that all homeowners want a fully utilized, beautiful kitchen. If your dream kitchen is on the horizon, as experienced flooring contractors, these are some kitchen reno mishaps you want to avoid to keep your project on time and on budget!
Common Kitchen Renovation Pitfalls 
Renovations are stressful. To help mitigate your reno-related stress, these are some kitchen renovation mistakes you'll want to avoid making at all costs.
Unrealistic Budget
Before breaking ground on your kitchen reno, you want to set a realistic budget with wiggle room to accommodate any unexpected costs you may incur. Typically you want up to 20% extra on top of your kitchen reno budget to serve as your "just in case fund." Another thing your budget will have to account for is the cost of hiring a general or flooring contractor.
Flooring Contractor Tips: To help you arrive at a manageable budget, research the cost of materials (e.g., flooring, cabinets, and backsplash) and appliances. During your research, stick to materials and appliances that you can afford! For instance, a kitchen reno costs a lot, so you shouldn't "splurge" on a material that will extend your budget.
Design Planning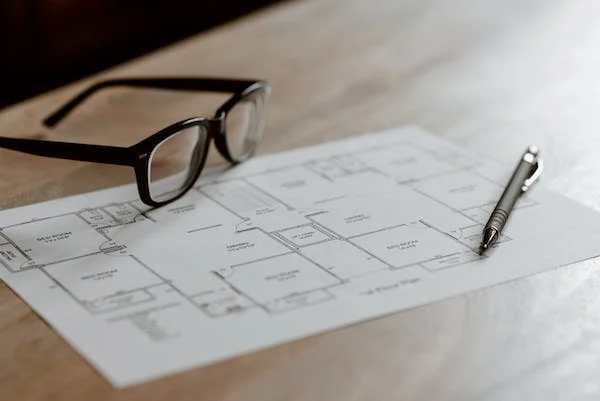 The next most important pre-reno step is planning the design of your space—this is especially important if you're adding to your kitchen via cupboards, islands etc. Suppose you're gutting your kitchen and have no experience designing a kitchen. In that case, you should rely on the expertise of a professional to help you plan and utilize your kitchen space. 
Some things you should keep in mind while planning your kitchen design are:
Are your fridge, stove, and sink in a triangle—this is a key requirement.

If you have cupboards, can they open fully without bumping into each other?

If you have a small kitchen, are your plans oversized, or do they consider your space limitations?

If you're putting in an island, is it size appropriate?

Are you bottlenecking the lanes in your kitchen?

Are you accounting for your storage needs?

Do you have proper lighting?

If the space is small, are you offsetting this by ensuring the lanes aren't too narrow?
Flooring Contractor Tips: If you aren't sure how to properly plan your kitchen, hire a professional, otherwise it could result in costly mistakes.
Not Enough Storage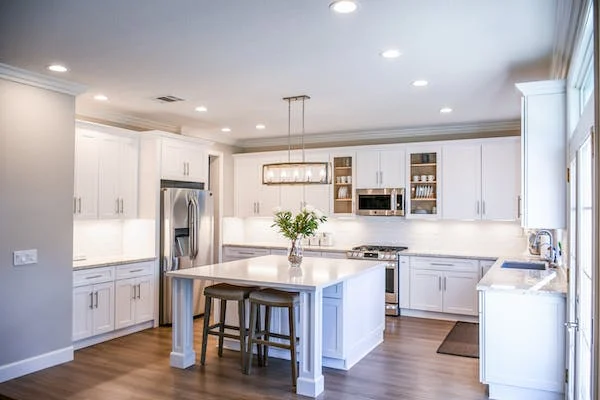 During your planning stage, don't forget about storage! It is far too easy to underestimate just how much storage space your kitchen needs—a lot. Think about all the items you must store in your kitchen like, pantry goods, cleaning supplies, and pots and pans. If you install a beautiful new kitchen and belatedly realize you didn't put in enough cupboards, it could result in additional fees (if you're lucky) or, worse, making do with what you've got. Thus, this underscores the importance of design.
Flooring Contractor Tips: Although we deal in floorboards, we've seen enough kitchen remodels to know the value of having enough storage real estate, so our best advice is simple: once you've completed the design stage, whether it's a DIY or with a professional, get a second opinion. In fact, make sure to ask whether you've got enough storage!  
Too Trendy
When the day comes to design or install your kitchen, although it would be wonderful to have all the latest fashions in your space, consider how impractical it is. Unless you have money to spare, you should always install trendy but not cutting-edge fashions in your kitchen, as it'll become dated quickly, and you'll have to remodel sooner than anticipated. For instance, installing trending colours like sea foam green cupboards, although beautiful, the fad will pass, and then you're left with a dated space—and a huge bill to remedy the problem. 
Flooring Contractor Tips: Our best advice is to play it safe with neutrals for big-ticket items like cupboards or flooring. You can inject your personality into fixtures, backsplashes, art, or finishing touches (e.g., hand towels or light fixtures). 
The Wrong Flooring
Another costly mistake many homeowners make is installing the wrong flooring material in their kitchen. When considering your flooring material choices, you want highly durable and water-resistant flooring that's easy to clean. These factors are critical as you'll drop pans on the floor that can dent or stain the flooring material, and you'll frequently need to whisk away water or messes. For instance, tile or luxury vinyl plank flooring are durable, easy to clean, and water resistant, making them excellent choices for your kitchen. 
Flooring Contractor Tips: If you're torn about the best flooring for your kitchen, you can always ask a reputable flooring contractor, like the Brothers Flooring, for a free consultation to help narrow down your selection! Some of the best flooring materials for your kitchen are engineered hardwood, tile, natural stone tile, luxury vinyl plank, or vinyl sheet.
Install the Kitchen of Your Dreams, Without the Headache
Everyone wants to prepare a meal in a trendy and functional kitchen; all you have to do is put together a solid budget and plan to avoid committing these common kitchen mistakes. After all, renos are stressful, so do what you can in advance to minimize your kitchen remodeling stress!
And if you need to hire a flooring contractor or have flooring or backsplash-related questions, don't hesitate to contact us the Brothers Flooring for a free, no-risk consultation!