How Messy Are Hardwood Flooring Renos?
Any renovation isn't without a mess. Even refinishing your hardwood floors will generate some debris. So when you embark on a flooring project, you should expect your space to be out of sorts temporarily. The only thing you can do is prepare yourself for the coming tide of old floorboards and decades of dust from when you peel back your old floors.
To make your life easier, we created a guide to help you understand how messy different hardwood floor renos can be. Take it from professional flooring installers—we've seen it all, and been there to clean it up.
Your Guide to Handling Hardwood Floor Renovation Messes
Every homeowner dreams of installing pristine new floors, and many are fortunate to see their flooring dreams come to fruition. But the dark side to renovations is the chaos that comes with it, like not having access to a room and the inevitable mess.
Here's what kind of mess to expect when installing, sanding, or refinishing your hardwood floors.
Installing New Floors
If you're installing hardwood floors, as soon as you remove the old flooring, it's guaranteed there will be a collection of old flooring material, dust, and debris. If you've hired a flooring installer, they will remove all this from your space and sweep and vacuum the subfloor before installation commences. Hardwood flooring needs to be cut, and even though the installer will cut the boards outside, sawdust will still make it in. But fear not, the flooring contractors will vacuum before and after the boards are laid.
Sanding Hardwood Floors
Sanding is synonymous with dust. Dust is unavoidable when sanding as you or your flooring installer has to sand off the top layer, and that layer will go airborne and disperse. However, there are some things you can do to contain the mess, like:
Do: Move everything out of the room, as anything inside those four walls will be covered in dust. This is especially the case for plush furniture or rugs, as they will be hard to clean if they're saturated in floor dust.
Do: Use plastic drop cloths on all the floors; your flooring installer usually does this. Plastic on the floors makes for easier dust containment and removal.
Do: Vacuum. Again, if you've hired a flooring installer, the installer will vacuum constantly to keep up with the dust.
Do: Temporarily keep the family out of the workspace. That means if you're renovating a space you can contain, like a library or bedroom, keep everyone out to prevent dust from escaping into the rest of the house and any potential damage to the floors. If you cannot keep out of the way of the flooring installers, it's best to stay elsewhere while the flooring installers are hard at work sanding.
Staining and Refinishing
Once flooring installers finish sanding your hardwood, it's time to stain or refinish the floors to protect the surface of the wood. Flooring installers will put down plastic drop cloths to prevent finishes from staining other surfaces. Installers will also vacuum to lift the dust and dirt before they begin staining or refinishing the wood.
Other Things to Consider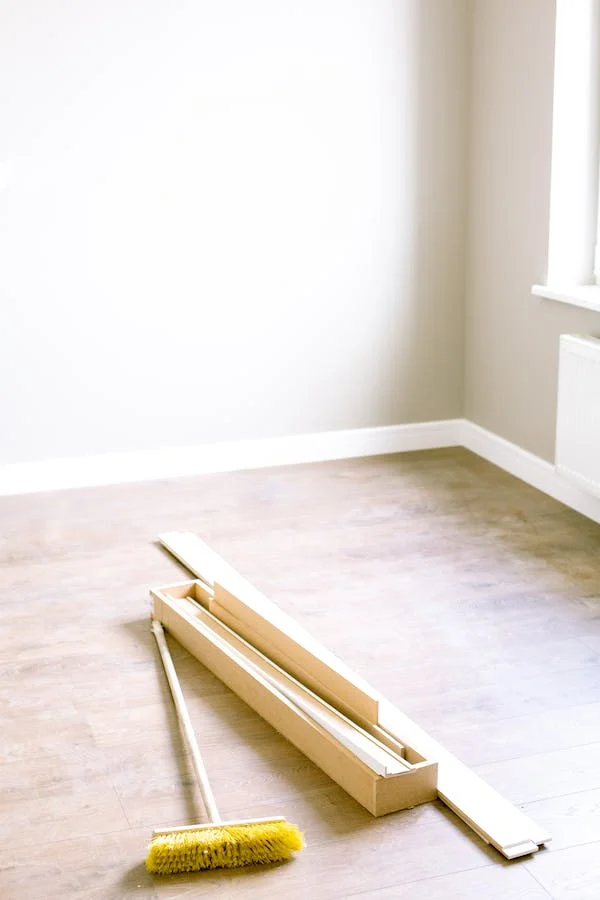 Suppose you've hired a flooring installer to install or refinish your hardwood; when they complete the job, they will tell you what to expect. For instance, if the project takes multiple days, they may advise you to stay off the floors when they are gone for the day. They may also advise whether your wood floor needs to rest to allow the stain to dry and how long it will take. In either instance, listen to their advice for the best results!
Once you can safely use your new floors, get in there and clean not only the floors but any surface, like window ledges, of dust. If you can clean it immediately, it will prevent most of the dust from making its way throughout your home.
Final Thoughts on Hardwood Flooring Reno Messes
A little mess is just part of the big picture of getting new floors; the key is knowing what to expect so you can prepare and brace yourself with the proper cleaning materials and a good mindset.
If you're interested in refinishing or replacing your hardwood flooring and want more information about what to expect about the mess or otherwise, then contact the Brothers Flooring for a free consultation! We have over 20 years in the business and navigated more than our fair share of flooring messes, so let us help answer any questions you may have!