The Best Flooring Choices for an Open-Concept Layout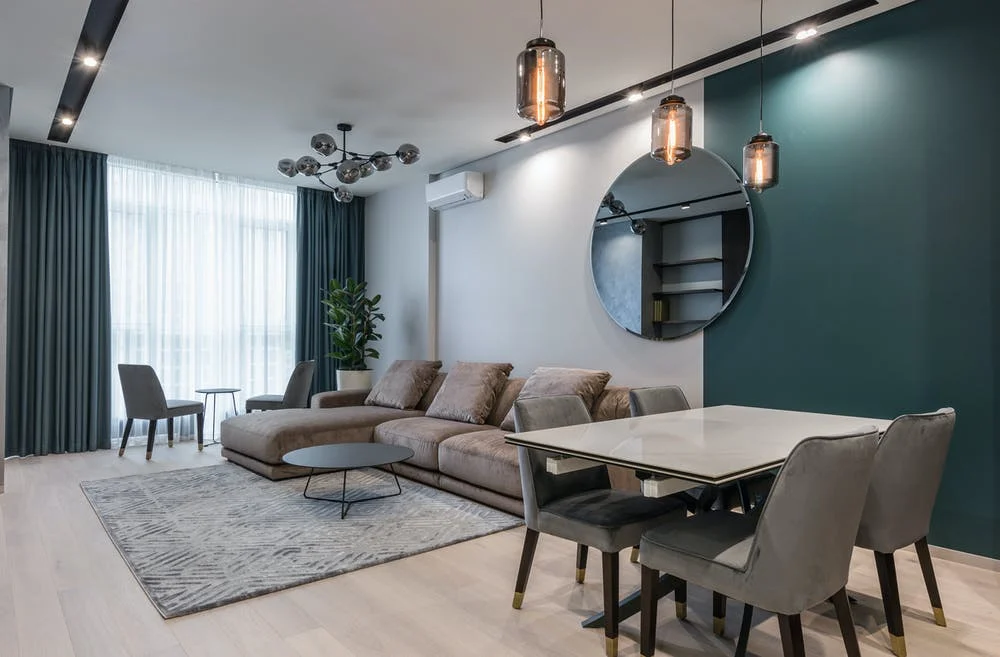 Flooring Options For an Open-Concept Layout
There is nothing more welcoming and functional to family or guests than an open-concept layout. But one of the most common questions we hear as experienced flooring contractors is, what floors suit an open-concept layout? 
It's a great question and the answer can depend on a few different factors, so read on to find out the best choices for your open-concept layout. 
Flooring Considerations
Before we dive into the best flooring choices for your space, there are a few things you need to consider first.
Comfort
For homeowners outfitting their main floor (kitchen, dining room and living room), you want your living room to be comfortable where kids can play or guests can kick back and relax. It's not inviting to stand or sit on a hard, cold surface, so even if you choose hardwood or a hardwood alternative, you should still consider laying a large rug to warm up the space.
Home Design and Structure
As flooring contractors, we can't stress enough the importance of harmonizing your floors with your home's architecture and your personal design style. For example, it's impractical to lay natural stone tile throughout your main living space in an old farmhouse where the floors aren't perfectly level or where it would contrast with the architectural design. 
Durability
If you have a large family, pets or frequently entertain, your top priority should be a durable floor that will last you many years to come. So, for homeowners dreaming of hardwood, perhaps consider a high-quality wood-look alternative instead, as it's better suited to an active household.
Soundproofing
Because open-concept layouts don't have many interior walls to help buffer the noise of someone cooking in the kitchen or the dog's nails clicking across the floor, you'll want flooring that prevents echoing. You can soundproof your floors by using a special underlayment. Don't forget to call us, The Brother's Flooring, for a free consultation and we can help identify your soundproofing options.
The Best Floorings for an Open-Concept Space
The ideal flooring options for an open-concept layout include:
Engineered hardwood: Engineered hardwood is an affordable type of hardwood that is made of layers of wood pressed together, resulting in a more water-resistant and durable flooring — perfect for families. Plus, some engineered hardwoods can be refinished by a trusted flooring expert. 
Hardwood: The top choice for homeowners is hardwood flooring, but be mindful of your lifestyle. If you have a busy home then hardwood will require a ton of maintenance to prevent it from needing premature refinishing — or worse, replacing. Also, keep in mind that unless you apply a good quality sealant to your hardwood, it is not water-resistant, so spills need to be cleaned up immediately.
Laminate: One of the most popular flooring choices is laminate. It is durable, affordable, water-resistant, and has many realistic wood-look varieties. Laminate is a top choice for households with pets and kids as it's water-resistant, scratch-resistant, and it doesn't fade or warp under direct sunlight (like hardwood does).
Luxury vinyl: Another option to consider is luxury vinyl. Vinyl is the most affordable option, and it's waterproof and hard wearing — making it excellent for families. It also comes in many varieties, including wood look and feel, so if hardwood isn't in the budget then vinyl is a great contender.
Other Considerations
You may have figured out the best flooring for the job, but there are a few additional things you may want to consider before you or your contractor begins laying your new floors.
Room separation: The greatest advantage to an open-concept space is more living space, but this can also be a disadvantage. Merging multiple rooms makes it tougher to define a space. So if you want different flooring in the kitchen, you want to ensure it matches the rest of your flooring choices for spaces that connect. Another way to create division is by using area rugs under your dining room table or around the sofa in the living room to visually separate the space.
Flooring size: Ideally, wide plank flooring is perfect for large rooms as it makes it appear even larger, while smaller planks are better for smaller rooms.
The Best Flooring for Your Open-Concept Layout
As experienced flooring contractors, these are the top things to consider before settling on the best flooring for homeowners that are ready to revamp their open-concept layout. 
If you're in the market for new floors for your open-concept home and need a second opinion, contact The Brother's Flooring for a free, no-obligation consultation! With 20 years of flooring installation experience in Mississauga, Brampton and surrounding areas, we are confident we can help you find the best flooring for your living space.